We're glad you've taken the time to visit our website. We are here to inform and excite those who are interested in Gypsy Cobs. Take a look through our website to learn more about us and our vision for North Fork, view our breeding stock and read about horses available for purchase. Whether you're here to learn more or just enjoy some glorious pictures of our favorite breed, we hope that you enjoy your time with us.
North Fork Gypsy Cobs is one of the leading Gypsy Cob Breeders in Canada with fully registered breeds from the Gypsy Vanner Horse Society. As the Gypsy Cob (also known as the Gypsy Vanner) is still considered rare in North America, we also promote this amazing breed across Canada and North America with our continuing involvement in shows, registry events and communication with other breeders across the country.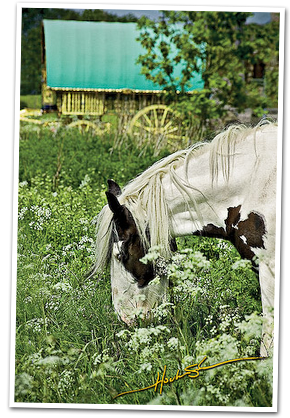 We offer nothing but the best quality Gypsy horses, with a large selection of mares, stallions, fillies, colts and geldings available for sale to our customers. We also offer stallions for stud services to select outside mares. All our foundation stock has been imported directly from Europe, many having DNA verified bloodlines, and each one has been registered with the Gypsy Vanner Horse Society.


It is our mission not only to provide the best horse for every client, but also to create a welcoming and friendly place for visitors, whether coming to us to find their own special horse, or visiting to enjoy the beauty and loving nature of our wonderful herd. It is our experience that time spent with this unique breed of horse helps one to de-stress and put away the cares of the day. We know you'll think so, too!

Our love for horses and our commitment to breeding the best of the best is the reason we are one of the most trusted and recommended Gypsy Vanner Horse breeders in Western Canada and North America.

Come on out and see our wide selection of horses for sale, as well as mares, fillies, colts, stallions, and geldings who are fully registered with the Gypsy Vanner Horse Society. Feel free to browse our website and let us help you learn about and find the horse of your dreams.

We are located in Saskatoon, Saskatchewan Canada and are one of the largest Canadian Gypsy Cob breeders available, where we are pleased to say that each horse still gets individualized attention. Until they arrive at their new home, every beautiful Gypsy Vanner is treated like family.
Please feel free to contact us if you have any questions or would like to talk about the horses for sale. 
The Nygaard Family
Letting Legends Lead the Way
Owners: 
Dale & Cheryl Nygaard & Family
North Fork Equestrian Centre
Box 167c, RR#4 Saskatoon
SK, Canada
S7K 3J7
Phone: 306-934-3592


May 15/13 - Our Foals!
Our first two foals have arrived! See their picture on the
first in line page
, or go to our
Facebook page
for even more wonderful pictures of our two fillies. Three more to go!

April 19/13 - Mares for Sale
Check out our
mares for sale
- along with recent pictures of Miss Pio from just last week in our winter/spring month of April. Also coming soon will be our Spring newsletter with lots of updates about our big changes for this year - look for this issue arriving soon!

Feb 22/13 - Sale Prices!
Some of our sale prices have changed - check to see if now's the time to get your dream horse!

Jan 25/13 - New Foals!
We are finally posting our expected foals for this year -
have a look
at who will be joining us in May! Also - come see us at Saskatoon's Equine Expo February 15-17! We will have 3 of our horses in the Breeds Parade and a booth in the exhibitor's area. Come on out, have fun and say hi!

October 30/12 - Fall Newsletter is now available

HERD REDUCTION SALE
September 14/12 - We are having a HERD REDUCTION SALE!
Click here
for details!